We are excited to introduce our new and improved interface that can help you maximize your productivity with greater efficiency when using Rayyan. As a web-tool dedicated to assisting researchers in their systematic reviews, literature reviews, and knowledge synthesis projects, Rayyan aims to streamline the screening and selection of studies, enabling you to save valuable time and effort.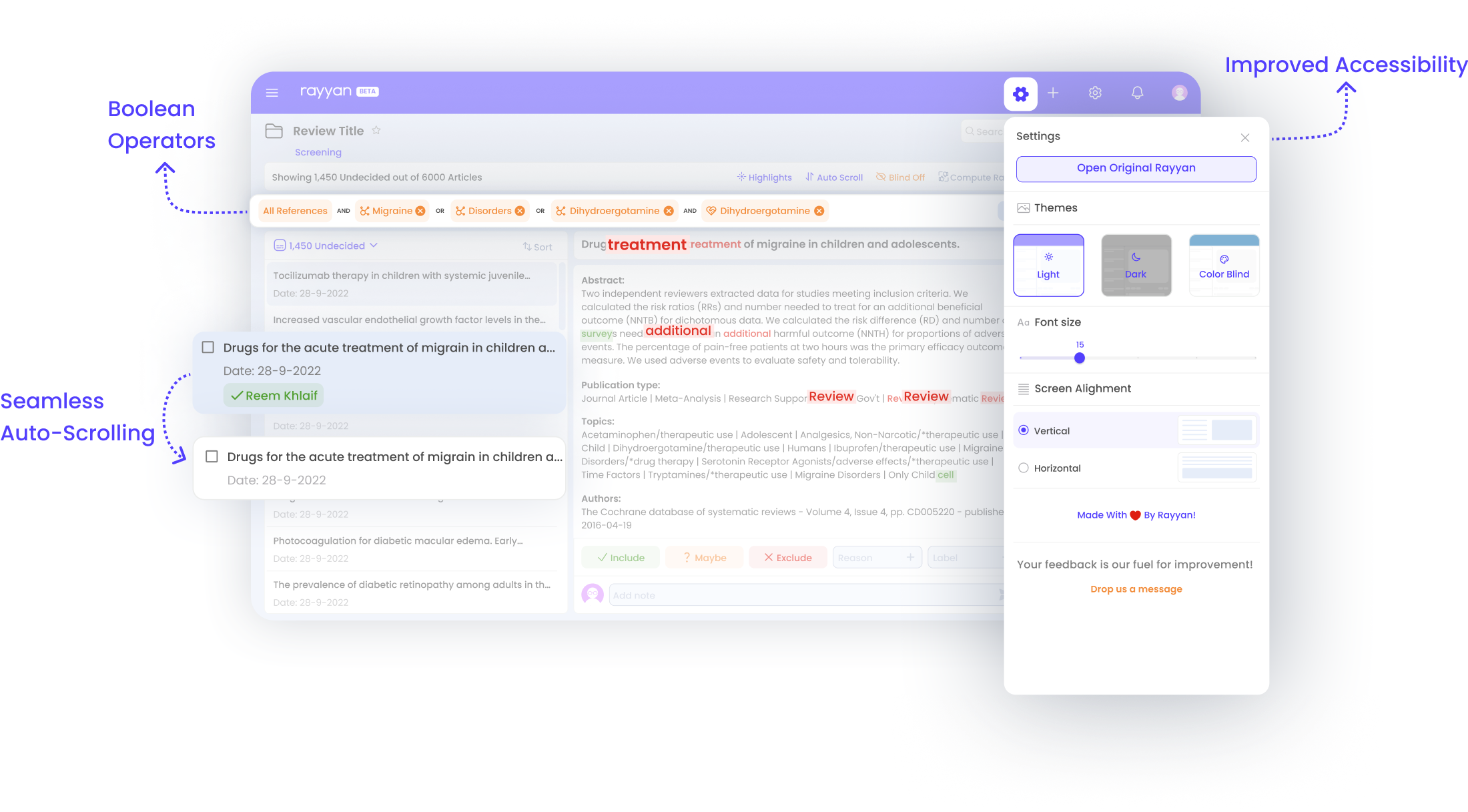 We take pride in developing Rayyan based on the feedback of our members/ Our team reached out to ask Rayyan members what improvements they would like to see for a better systematic literature review experience. This process allows us continue to cater to the needs of our diverse community of researchers with greater accessibility and inclusivity!
Our new user interface (UI) will be launched in phases and will be available initially in Beta to collect feedback. Additional screens and features will be rolled out incorporating member feedback. if you'd like to try it out, we would encourage you to sign up for a 14 days Free Trial, or take out a subscription to help us achieve our mission to accelerate research everywhere.
As a reminder, Rayyan is mission driven and member supported. We provide early access to all new features as an additional benefit to all of our researchers with premium memberships that enable all that we do. We hope to continue to earn your trust and support.
To give it a try, all you need to do is sign in to your Rayyan account. Keep an eye out for a notification at the top of the home page or above the review's title, inviting you to "Try it Now!" Click on the notification to be among the first to experience our bet version.
Enhanced Existing Feature for a Seamless Review Process:
Create a Review:
Easily create a new review, upload and manage references, and invite collaborators to streamline your research workflow.

Copy References:
Copy and transfer references within reviews for easier citation management.
Export Results:
Export your review results in various formats, enabling smooth collaboration and report generation.
Compute Ratings:
Use our improved ranking system to evaluate article relevance more accurately and easily. It provides a comprehensive relevance ranking, helping you prioritize the most relevant content for your review.
Update Inclusion Decisions Tab:
Easily switch between your inclusion and exclusion decisions with the new placement of the inclusion decisions tab located above the list of articles, helping you stay organized throughout the review process.
Blind Mode:
Manage blinding while screening articles, ensuring unbiased decision-making throughout the review process.
Some exciting new features and functionality in this release:
Improved Accessibility - Adjust font size, customize your theme, and align your screen
Theme Customization:
Customize the interface theme to suit your preferences and needs, choose from Light, Dark, and Color Blind mode.
Font Size Adjustment:
Personalize the font size to ensure comfortable reading and reduce eye strain during long review sessions.
Screen Alignment:
Align your screen to your preferred viewing angle, either Horizontal or Vertical.
Customizable Workspace - Toggle highlights, enable auto-scrolling, and show, hide, and collapse filters!
Auto-Scroll:
Save time and enhance efficiency by automatically scrolling to the next article or reference after making a decision during your review process.
Show, Hide, and Collapse Filters:
Our redesigned filters allow you to track and access them easily, improving workflow efficiency. You can also view Boolean Operators (AND and OR) applied to your filter combination, increasing control and accuracy of search results.
Improved Keywords for Inclusion/Exclusion:
Add and remove multiple keywords and phrases for inclusion or exclusion!
Note: Some features are still in development and are not currently available.
What's Unavailable Yet in the Beta Version?
While the new interface offers many exciting features and improvements, we want to let you know that some of the features available in the previous version are not yet available in the Beta version. These features include PRISMA diagram, Detect Duplicates, Upload Full-Text PDF, Keyboard Shortcut Support and Auto-Resolver. However, you can continue utilizing these features in the old interface, and seamlessly switch to the new interface to continue your work. We understand how important these features are to our users, and we want to assure you that our development team is actively working to add them to the new interface as soon as possible. We appreciate your patience as we continue to improve Rayyan to better serve your needs.
Be among the first to experience the new UI, available exclusively in beta for our premium members. Check out our Membership options to sign up for a 14-day trial and to become a supporting member today!
Download the Rayyan Mobile App